Lucienne Ackerl hat sich zwischen den beiden Aufführungen von "One of Two" von Jack Hunter im Rahmen des Festivals Grenzenlos Kultur Vol. 25 mit dem jungen, schottischen Performancemacher getroffen und ihn zur Entstehung der Inszenierung, zur Wahl der ästhetischen Mittel sowie zu Arbeits- und Förderstrukturen in der Freien Szene Schottlands befragt.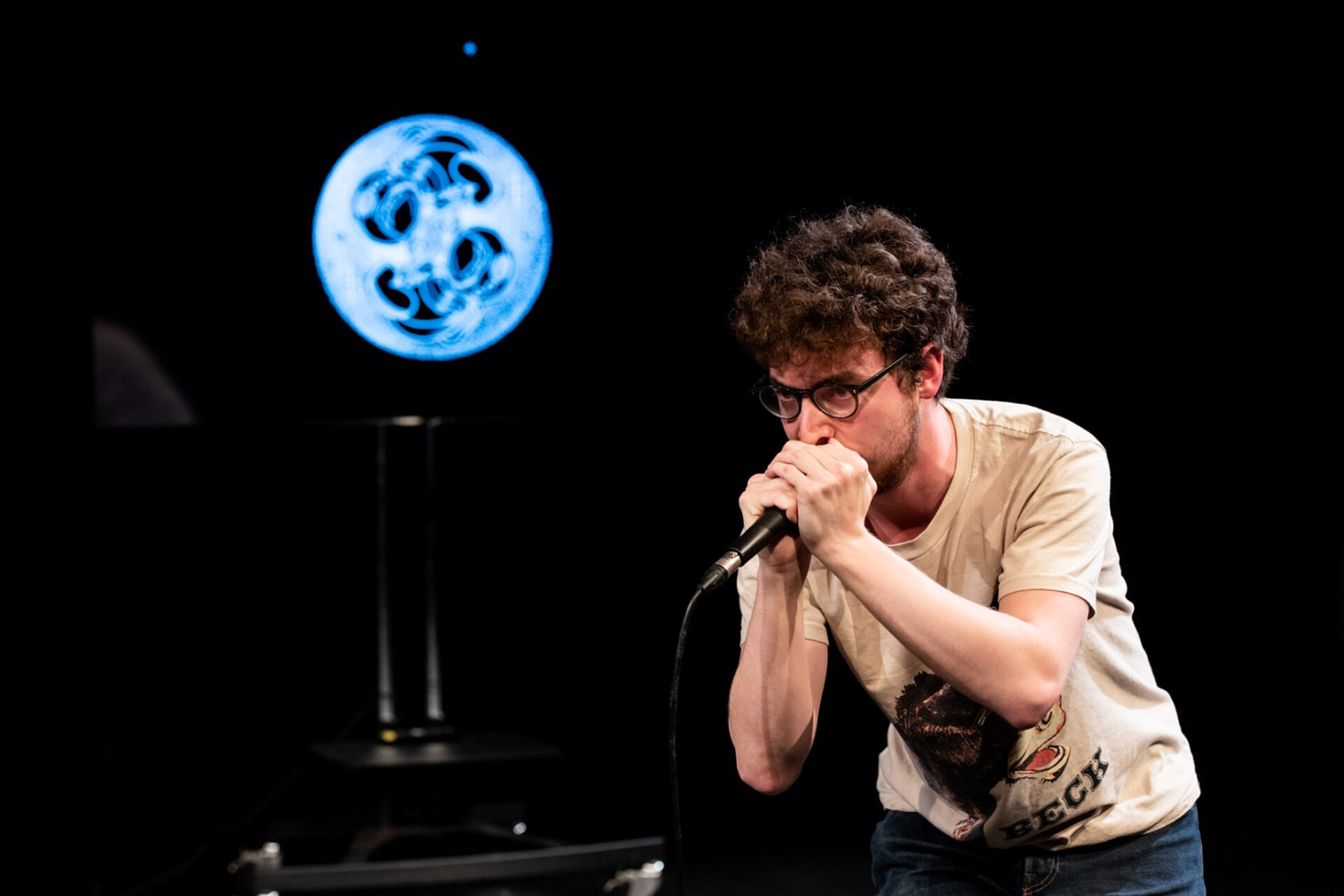 Das Gespräch fand am 21.10.23 in englischer Sprache statt. Anbei das englische Transkript.
Transcript (slightly revised):
Lucienne Ackerl: My first question would be: What inspired you to create this show about your sisters and your own story?
Jack Hunter: It's quite an interesting journey really. I knew when it was happening in school that this was not normal. It was not the run-of-the-mill thing to happen. For disabled kids, your experience is different from the experience of non-disabled children and teenagers, but even the difference between recognised life experience. I thought that was odd and the sort of failings from the educational system. I felt that this was not normal. And then, it was during 2020, during lockdown, I just had the time to write. And there was a playwright mentorship Award which I applied for and I got. Then it just all kind of spawned from there and it was just a really interesting experience. Because obviously the way back is portrayed throughout the show mainly through her own words, some of which I've written bad jokes for her, but most of it is found footage that previously existed from our story and from our lives, and also found audio in Diary entries. So it was sort of piercing that together so that we were able to tell our own stories as well as each others.
LA: I visited the show yesterday, and it was really a beautiful show. Is this actually your first show in Germany?
JH: Yeah, this is the first show in Germany. My first time in Germany. So I'm having a fantastic time. It's been really, really exciting. It's been such a fast experience, because the show has been redeveloped for the dates here in Mainz. We did a couple dates in Den Haag in the Netherlands. I mean performing in a palace with secret doors and secret toilets (Residenz Mainz) – it's all very, very cool. The German audience have been really receptive. And I think what excites me a lot is about the disability politics, because disability politics is so different wherever you go, whether you're back in the UK or whether you're in Europe. So it's very, very interesting to see what people think about it.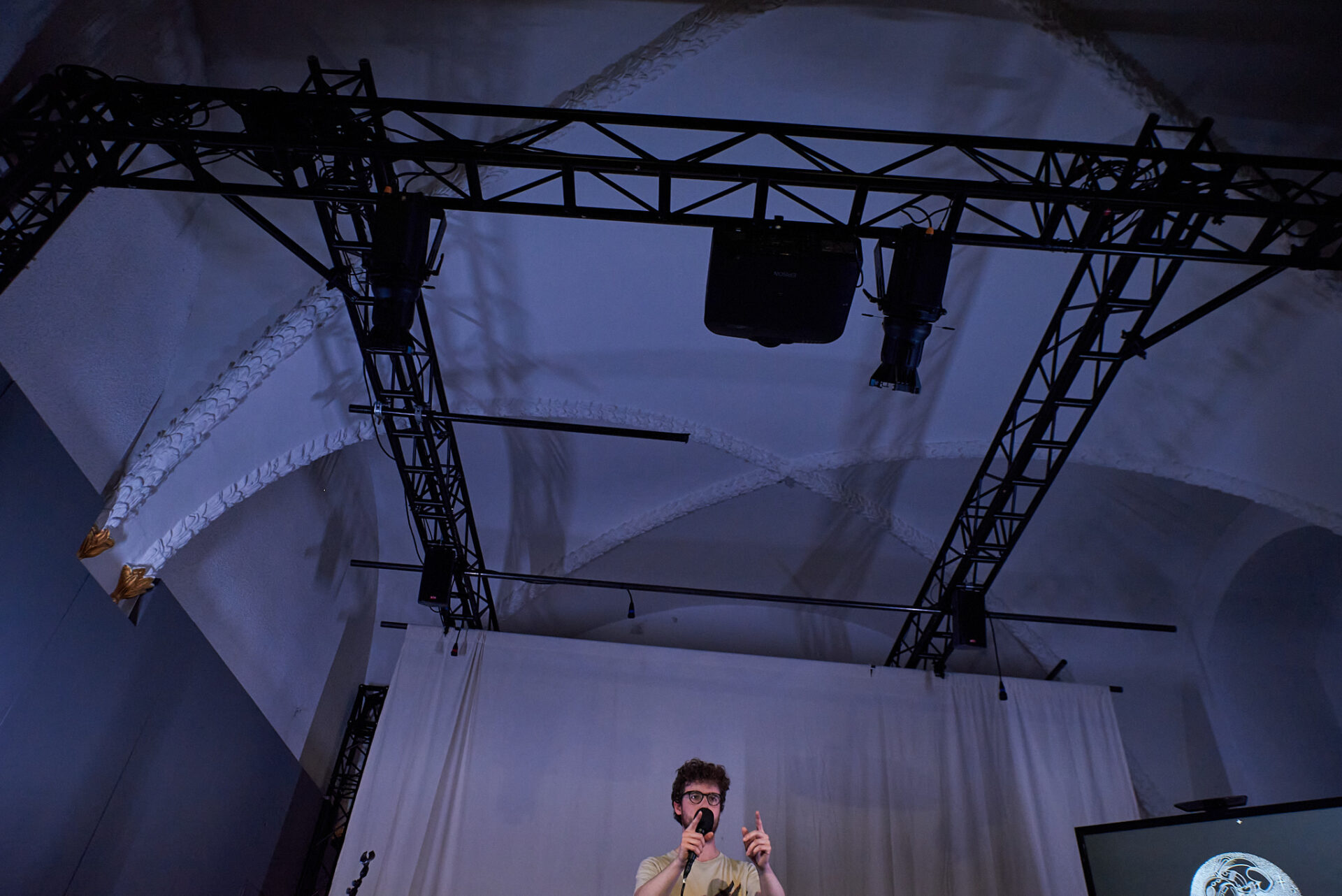 LA: So this is your first artistic project, will there be more projects in the future?
JH: I would hope so! This show really has been a fantastic thing for me. Because it's my first written production that I've done myself. And I hope that it can kind of be springboard for other work. I also think throughout this process I've met such fantastic collaborators, like the director, the technical manager. I mean, I've got lots of other ideas. Whether they materialize is a different thing, but I hope that show will become a bit of a calling card, a way to give me a bit of a platform. And who's to say maybe this is the last show that we're doing right now for "One of Two", but hopefully it might go on to other festivals in Germany or beyond.
LA: I want to know why you've chosen storytelling as a theatre form to bring the story across?
JH: That's a really good question. I think what I found interesting when I was writing it, was that I had all of these different ways of telling stories through my past experience. So when I was in uni(versity) and slightly afterwards I did a lot of sketch comedy. That's sort of what I grew up on as a kid. And the more I watched the more I aspired to do. So my brain and writing would think through these sort of episodic vignettes of sketch comedy, but then also in the past I've also done stand-up comedy. So there's elements of storytelling through that in a different way. And then obviously you've got the poetry as well. And poetry is something that I've been doing for a while now, so it was really interesting to stitch that all together. So there's all these different sort of forms in the one show. But I also think as well the authenticity of me just being on stage, telling you the story, I think that's what people connect with. Because there's no really anything up against me and the audience. It's very much just me, maybe I'm a slightly heightened version of myself, but I just didn't feel like I needed to put any sort of vehicle in front of it. It's also the same with having Bec (Rebecca, his sister) in it, and having Bec's voice. Lots of times people would maybe ask why wouldn't you have another actor on the stage or why wouldn't Bec be here. I didn't want to get have another actor, another character, because that would just feel quite odd. It would be a meshing of real life, real story and an extra layer, an extra fabrication, which of course you always kind of need when you do all biographical work, because it's hard to condense your whole life up until now into 56 or 57 minutes. It's bit of a rambling answer.
LA: In Germany we have artists working in the independent scene. How is it in the UK? How do you organize it? Because it would be interesting to know how the system works in the UK.
JH: Well, this project has been very interesting, because the show existed in a previous form back in 2022 at the Fringe (Festival Edinburgh). It was an association production between me and a theatre company called Birds of Paradise Theatre Company, and so they helped with the show. But this time the show got more funding available. We did that through our funding application with Creative Scotland called the Open Fund for Individuals at which I applied. And I was working with independent arts projects who have been absolutely fantastic. Really, really helpful. From very early on, the conversations I had with the producing team there, so they've kind of worked in tandem with me and together we've been able to work with other artists and other creatives.
In terms of being a self-employed artist, I guess it depends on what your practice is. I also do like just acting work on its own. That's a very different feeling from applying for funding, but generally it's a lot of application forms and you know some, some you get, some you don't. But I've been very, very fortunate with the support for this project, especially with Independent Arts Projects and Creative Scotland because I'm not sure what it's like in Germany right now, but there's definitely a squeeze on funding back in Scotland. So I guess that makes me feel even more lucky and humbled to be able to present the work.
LA: Tonight is the last show you are playing and I want to know: Are there any wishes for this night?
JH: Just have fun, I think. I just really want to enjoy it. I hope the audience enjoy it and I hope they take something away from it. Hopefully, it's something to do about how maybe they perceive disabled people or disabled people within their community or within society. But generally, I just want people to be able to have a nice time. I kind of wanted to soak it in, because as I've said, it's the last show of "One of Two" for the foreseeable. So, just enjoy it! I'm sure we'll be back. But you know: just be in the moment!
LA: Thank you for the conversation. I wish you a really nice day.